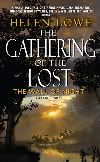 Helen Lowe
THE GATHERING OF THE LOST
March 27, 2012
ISBN: 978-0061734052
Garrisoned by the Nine Houses of the Derai, the towering mountain range called the Wall of Night is all that separates the people of Haarth from the terrible Darkswarm.
Five years have passed since the Wall was breached and the Keep of Winds nearly overrun. Five years since the Heir of Night, Malian, and her friend and ally Kalan went missing in the wild lands of Jaransor.
Now, in Haarth's diverse southern realms, events are moving. From the wealthy River city of Ij to the isolated Emerian outpost of Normarch, rumors of dark forces and darker magics are growing. As the great Midsummer tournament at Caer Argent approaches, Haarth will have one opportunity to band together against an enemy in which few believe . . . or be lost forever.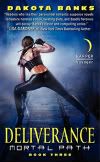 Dakota Banks
DELIVERANCE
March 27, 2012
ISBN: 978-0062049988
Kill . . . or be damned.
A demon's assassin for centuries, Maliha Crayne has gone rogue, determined to save a life for every one she's destroyed in order to free herself from an eternity of enslavement, damnation, and excruciating torment. But as the powers that sustained her in the past fade, she is wary of trusting those closest to her—especially her lover, Jake. And her closest friends are beginning to disappear, one by one. Amid her anger, suspicion, and sorrow, her life is spiraling out of control.
Worse still, a beautiful Renaissance murderess is recruiting Maliha as her new assassin. Maliha is turning into a lethal puppet with an evil Immortal pulling the strings, forced to kill innocents or see her missing friends die horribly. Suddenly trapped in a moral no-man's-land, Maliha is damned if she does and damned if she doesn't . . . and time is rapidly running out.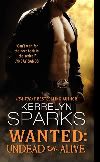 Kerrelyn Sparks
WANTED: UNDEAD OR ALIVE
March 27, 2012
ISBN: 978-0061958069
He's a vampire from the big city . . .
Phineas McKinney thought New York City was tough, until he was attacked by Malcontents—evil vampires who consider mortals to be snacks. Saved by the good vampires, Phin swore to devote his now undead life to stopping the Malcontents. He's got his job cut out for him when word comes that their enemy may be hiding in Wyoming. What does a city boy like him know about horses and campfires? Good thing he's got Brynley Jones with him . . . if only she didn't hate every vampire on earth.
She's a werewolf princess . . .
Bryn believes vampires are seductive and charming, and that makes them dangerous. So she's more than a little annoyed about teaming up with Phin, even if he is the only bloodsucker able to make her inner wolf purr. But as they hunt down the new leader of the Malcontents, danger threatens . . . and Phineas and Brynley discover a passion that will rock the foundation of their supernatural world.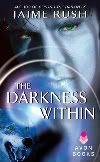 Jaime Rush
THE DARKNESS WITHIN
March 13, 2012
ISBN: 978-0062184603
Tucker has always known he was different. But he's learned to control the Darkness within him, to keep his inner wolf at bay, as long as he doesn't fall in love. And that shouldn't be a problem because he hasn't seen his one true love since he was a teenager.
Del needs help, desperately. And the only person she can rely on happens to be the one man she knows she shouldn't seek out. Tucker's fierce protective instincts have scared her before, but she has to take the risk.
Together again, the love they struggled so long to forget rushes back stronger than ever. The temptation to give in is high, but it could cost them everything. And when Tucker's wolf is unleashed, will they be able to save themselves?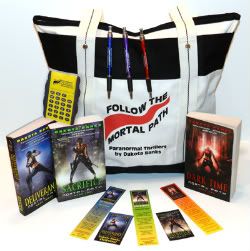 Dakota Banks is running a drawing "
Like my FB page and Enter to Win a Kindle
Fire
", and giving away Swag Bags on
her blog
. The swag bag consists of a tote bag, 3 signed books, bookmarks, pens, magnets, and a calculator. The blog giveaway also includes a $50 donation to Feeding America each time she gives away a swag bag. Both drawings are continuous, meaning as soon as a winner is chosen, another drawing begins, and you can enter again!
DELIVERANCE received a very nice advanced review from
RT Book Reviews
. Highlight: 4 Stars "[DELIVERANCE] is wonderfully unpredictable, full of breathlessly exciting action scenes. With a little bit of mystery, a troupe of interesting characters not lacking for depth and a very satisfying ending, readers will be hooked till the very last page, and then will rush to pick up the others in the Mortal Path series."