***The winner of a signed set of FOUR books in the Nicki Styx series is R BUTLER!! Please send an email containing your mailing address to terrigarey@gmail.com, and your books will be in the mail!***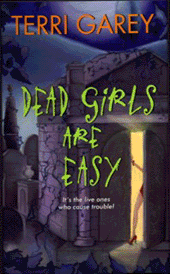 When I become emotionally attached to someone, I often have a hard time letting them go, which is also true of my characters. This is why, after a hiatus of three years,
what I'm up to
these days is revisiting the character of
Nicki Styx
, who made her debut in my RITA award winning novel,
DEAD GIRLS ARE EASY
. Nicki's adventures with the dearly (and not-so-dearly) departed went on to fill four more books and a novella before I moved on to other projects, but Nicki (much like the spirits who plague her), simply refused to die. True to form, she demanded her OWN happily after ever, which I may or may not give her -- the story isn't finished yet -- but
HAPPILY NEVER AFTER
is my current project.
In my spare time, I'm also working on the third and final book in the DEVIL'S BARGAIN series, which will be the one where the devilishly handsome Sammy Divine finally gets what he deserves, and revisiting a couple of historical novels that I wrote a few years back involving Roman warriors, ancient Druids and the Egyptian cult of Isis. (Say what???) :) Oh, and then there's a Victorian mystery involving mesmerism and spiritualism that keeps calling my name... I hope to get to that one sometime next year. If you'd like to find out more about any of these books, including the release dates, you should probably
sign up for my newsletter
, which is also a great way to win free books, cool t-shirts and all around awesome writerly swag (I love holding contests!). And look, you can even sign up via text message! Isn't modern technology wonderful? :)
In other news regarding revisiting old friends, tomorrow I shall head off to Atlanta, GA for the 2013 Romance Writers of America conference. Once there, I'll attend workshops, parties, laugh, eat, and laugh some more, as I see some of my dearest writing pals, many of whom I only get to see once a year. Here I am with two of my best buds, Harlequin Medical author Janice Lynn and Harlequin Superromance author Anna Sugden. We met online over ten years ago when we were all still unpublished, and have hung together ever since. I can't wait to see them again!
So, in honor of old friends like Nicki, Anna and Janice, I'm offering a giveway today of
ALL FOUR
books in the Nicki Styx series:
DEAD GIRLS ARE EASY
,
A MATCH MADE IN HELL
,
YOU'RE THE ONE THAT I HAUNT
, and
SILENT NIGHT, HAUNTED NIGHT
.
All you have to do is tell me the name of YOUR oldest friend, and you're entered! A winner will be chosen on Thursday, July 18th. Good luck, and here's to good friends!