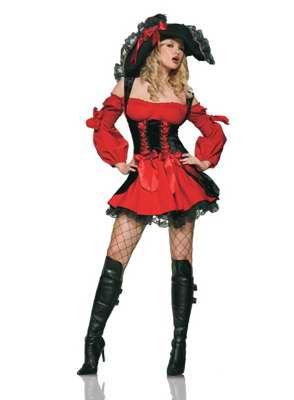 All right, ladies, let's keep this short and sweet, shall we?
(Gentlemen, pull up a chair and add your assent, won't you? I think the ladies will appreciate it.)
I have, on and off for the past ten years or so, worked at a Halloween store. Not this year, but I do go in now and again to lend a hand and the mancandy likes to dress up at any given opportunity and go hang out to drive sales. So! I have experience, y'all. I know what I'm talking about. For this brief moment in time, I am The Expert.
And the Expert is telling you ladies to quit waiting for Halloween to bring the sexy on.
Are you listening?
Here's how this goes: Every year, I saw beautiful women—and I'm talking, like, normal, everyday women who just so happen to be beautiful because they're like you—come rushing into the store and ogle the sexy costumes. And every year, I'd watch the Leg Avenue costumes fly off the shelves.
Okay, I know some of them are totally skankalicious, but there are some gorgeous Leg Avenues out there. Their pirate collection is especially lovely.
But I always think: Halloween. Ghoulish, ghostie delights. It's the one time a year you can dress up really scary and weird and fantastical (unless you're a con professional or, you know, actually a zombie). It's the day and night when no one will think twice if you're covered in blood, growling around and threatening to eviscerate children (Trust me, I know...)
So why do all these ladies keep going for the sexy time costumes?
Look. I'm not trying to tell you how to do your business, but I have a proposition for you. Are you listening? Here, have some tea. Okay, here's the deal:
There are 364 other days (probably not including the days you attend Church or something, so use your own judgment here) when you can dress as sexy as you like. It might not be as in-your-face as a Leg Avenue costume, but there is a sexy that is not just encouraged in public, but just drop-dead-gorgeous. There are 364 days to be confident, gorgeous, show a little leg or flash a red-lipped smile. To let your hair down. To wear a skirt and a wedge heel or a pair of jeans and a sweater that hugs just so, and make every eye in the room turn to you with a silent, Wow.
But only one when you cover yourself in blood and stagger through the streets.
At least without psychiatric evaluation to follow.
So come on, ladies. Join me in this: I think we should bring sexy back, every day. Or at least every day we bother to leave the house. It takes work to look as good as we do, after all—we should get the occasional day off. (Says the oh, so glamorous author sitting in her robe and slippers...)
And on Halloween, we should go all out: blood, gore, fangs, flesh, whatever. And you know what? If you want to be sexy on Halloween too, I'm all for it. Let's just add a little supernatural flair—fangs, bloody aprons, meat cleavers. The Black Widow who temps her loves and devours them in her web, I can get behind that.
But let's embrace the spirit of Halloween, which isn't to dress up in a way you could every day (sexy, ladies, you know it), but as someone or something you're not.
And every lady is sexy. You just have to tap into it, is all.
So who's with me? Who wants to being sexy back?